No, that puggy is not for sale!
Last week when I changed the header pic (Look Up) a lot of comments were left about how the pug got grease on it's side and many more comments about how cute this pug is. I figure this a good time to introduce one of my dogs - This is
Ernie: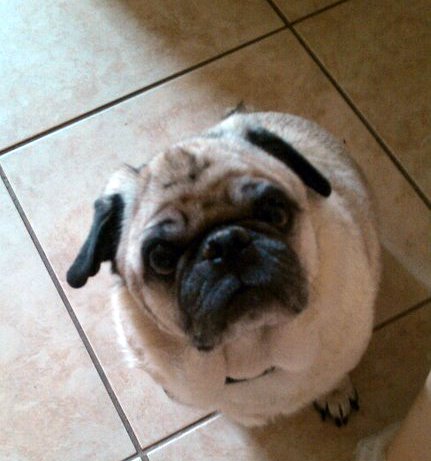 Ernie is my 9.5 year old, 27 pound, fawn pug. Ernie used to be a 32 pound pug so just like most of us he has changed his lifestyle and slimmed down. He answers to the name Ernie, Big Ern, Buddy, Asshole, and Treat. Big Ern is also my Trainer partner. Not
Training
partner, but
Trainer
partner, as in - Indoor Bike Trainer. He likes to lay on the ground next to the bike as I am sweating away on the trainer. I'd like to think he does this to motivate me but the truth is that one day I dropped a GU Chomp and he devoured it. So he is hopeful that one day that magic will happen again.
Ernie is just an overall awesome dog. He gets into his share of trouble like stealing entire chicken wings and then having to poop out the bones. Or knocking over the garbage can in the pantry and spreading trash throughout the house. Even when he does things like this my wife and I find ourselves laughing about it later.
So how did Ernie get the chain grease on his side? Well, actually I have no idea. My wife noticed it first and snapped the picture above. Ernie is a very mischievous little bugger so my guess is he was trying to knock my bike over and the grease mark was the reward for his efforts.
Or maybe he just wanted to look like a Triathlete?
Thanks for Reading,
Jeff